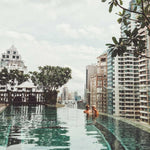 BANGKOK FAVORITES
BANGKOK FAVORITES
After shooting our Holiday collection, Renegade, in beautiful Thailand, we received a lot of inquiries about our must-visit spots in Bangkok. We're always happy to share a good travel find with inquiring minds, so here's a round up of our favorite haunts and hangouts in one of the most vibrant cities on earth. 
Floating Markets.
  A
 first-time visit to Bangkok wouldn't be complete without experiencing the floating markets.  Full of beauty and chaos, these markets are comprised of hundreds of tiny boats, filled to the brim with vibrantly colored local fruits, veggies, trinkets, and street foods.  
If you don't have time to go to the big markets outside of Bangkok, visit Taling Chan, right in the city. It's only open on weekends, so rent a private boat and have them take you through the canals and 
to some of the other markets. 
Stay at the Muse Hotel
. It's the perfect blend of luxurious, artistic and cultural.  Bangkok can get really hot and muggy, so we love heading to their rooftop pool and bar to cool off with a cold margarita and a dip in the pool.
Bangkok is jam-packed with stimulating beauty. W
alk or take the sky train to get around, and 
get
foot massages
daily! There are little treasures to be found around every corner.
Weekend Market. The best shopping!
Ekkamai. Score some totally unique & incredible vintage.
(un)fashioned. They have a huge selection of vintage shoes and accessories, and the cafe next door is the perfect place for a delicious pick-me-up. 
Sky Bar. Located in Lebua at State Tower, it's the highest rooftop bar in the world!  Sip drinks at sunset with a magical 360 degree view of the city. 
Ride a Tuk Tuk.  Bangkok's version of a pedicab, riding a Tuk Tuk through the busy city streets is quite an unforgettable experience! 
Cabbages & Condoms.   Have dinner at this quirky restaurant- the entrance is filled with condoms from all over the world as a message to support family planning.  At night, their patio becomes a canopy of twinkling lights, the perfect setting to enjoy their incredible Thai food.