At Cleobella, sustainability and ethical practices are at the core of all we do. Our designs, which celebrate traditional craftsman techniques, are ethically handmade by independent artisans around the world. By helping preserve traditional heritage techniques through partnerships, we also help create sustainable income for these makers.

THE PEOPLE
Our artisan partners are always at the heart of everything we do. As a small, family-run business, nurturing strong bonds with our artisans is a fundamental principle of our business. Many of these relationships span over a decade and have now turned into family. Since Cleobella's inception, our founders have split their time between California and Southeast Asia, ensuring they can work alongside and supporting our overseas teams. It is through these meaningful connections we have been able to grow as a brand and create products that are handmade with integrity. Furthermore, we have collaborated with various organizations to empower women, exemplified by our partnership with Bloom India. Through this alliance, we contribute to funding pre-college STEM courses for young women in India, thereby providing them with invaluable opportunities for advancement.
THE PLANET
Cleobella is committed to do what we can to help our world shift to a better planet for all. Cleobella has always been passionate about our responsibility to the planet and we know there are always ways to improve. We believe in designing products in a meaningful way that is conscious of our environment, our makers, and the women who wear our designs. We have the opportunity to inspire others to help create more jobs, greater prosperity, and better lives for all makers around the world. At Cleobella we advocate for the planet as well as it's people and know that everything is connected.
THE PROCESS
At the heart of our brand lies Cleobella's dedication to global inspiration and ethical craftsmanship. We embrace tradition and uphold integrity in everything we create. Our ultimate goal is to design pieces that hold sentimental value for our customers. While we acknowledge fashion's imperfections, we are committed to producing products that have minimal impact on our planet and leaving it a better place. Our ongoing pursuit involves extensive research and exploration of innovative methods to offer the purest products imaginable. Moreover, we actively promote the principles of slow fashion and conscious consumerism, as well as the preservation of traditional artisan crafts.
GLOBALLY INSPIRED, ETHICALLY HANDMADE
GLOBALLY INSPIRED, ETHICALLY HANDMADE
GLOBALLY INSPIRED, ETHICALLY HANDMADE
GLOBALLY INSPIRED, ETHICALLY HANDMADE
GLOBALLY INSPIRED, ETHICALLY HANDMADE
GLOBALLY INSPIRED, ETHICALLY HANDMADE
GLOBALLY INSPIRED, ETHICALLY HANDMADE
GLOBALLY INSPIRED, ETHICALLY HANDMADE
GLOBALLY INSPIRED, ETHICALLY HANDMADE
GLOBALLY INSPIRED, ETHICALLY HANDMADE
GLOBALLY INSPIRED, ETHICALLY HANDMADE
GLOBALLY INSPIRED, ETHICALLY HANDMADE
CAUSE
SUSTAINABILITY
Funded the planting of over 10,369 fruit-bearing trees in India via One Tree Planted and the Eco-Alliance. In addition, 793.80 KG of GHG Emissions, 41,079 gallons of fuels, and 1,094,593 sheets of paper via Ecopackables.
CAUSE
CLEAN OCEANS
Funded the removal of over 17,520 lbs of plastic from the oceans via Surfrider Foundation and with the design of our Eco Beach Tote. In addition, over 331,695 plastic bottles were saved and 1,610 ocean-plastic bags via Ecopackables.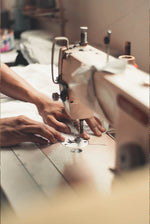 CAUSE
SUPPORTING WOMEN
Funded over 42 sewing machines for female artisans in South Asia via Ibu Foundation, as well as, funded the transportation to Capitol Hill for 3 moms protesting the lack of gun control via Everytown for Gun Safety.
CAUSE
EDUCATION
Funded one week of pre-college STEM courses for over 28 young women in India via Bloom India and partnered with Girls Inc and  funded 30 days of Eureka, a pre-college program in science & tech, for a teen girl.
Perfectly Imperfect
Leading with honest integrity, Cleobella prides herself on celebrating the beauty of imperfections and uniqueness. Our story is far from perfect and we are consistently working to improve in areas we can. Although we are accepting and honest of the areas that need more patience and attention. We have always gone by the saying: slow and steady wins the race, and step by step because to be honest we are in no hurry. We work patiently and consciously with our artisan partners and flow with the tides we're served.
Consciously Connected
From our artisan partners around the world, to our small but magical team here in California, through the mountains, and down to the sea, we are all connected in more ways than we could imagine. Each and every one of us are bound by the universe and we work better together. The love that is poured into each piece is what truly makes Cleobella so special. You can feel the integrity in each of our products and that is because of the meaningful relationships we have nurtured over the last decade.
Feminine Strength
Empowering all women close and far will always be at the heart of Cleobella and the magic she dreams up. Women are what weaves Cleobella together and without them we would not be the brand we are today. We were founded on and still flow through the confidence, feminine strength, and guidance of our women. The power of the dress is unstoppable and Cleobella's designs are intentionally meant to give you confidence and the strength you need. Celebrating all women, everywhere is a Cleobella ritual and we will always empower the divine feminine through our products.
The Cleobella Community's Impact
1% of every Cleobella purchase is donated to a nonprofit of your choice.
Check out the impact the Cleobella community is making below.