Globally Inspired, Ethically Handmade.
At Cleobella, sustainability and ethical practices are the core of our brand. Deeply rooted in our partnerships with independent artisans around the world, our designs are ethically handmade while preserving traditional heritage techniques.
Cleobella: The Beginning
At Cleobella, sustainability and ethical practices are the core of our brand. Deeply rooted in our partnerships with independent artisans around the world, our designs are ethically handmade while preserving traditional heritage techniques.
But it's more than just inspiration—the artists and makers Ange and Jim met on a trip around the world remain integral to the brand's story today. Here, we share Cleobella's founding story and the incredible people and places that have gotten us to where we are today.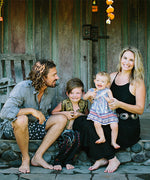 Early Days: Chasing Waves and Spiritual Home
Prior to meeting and marrying Jim, Ange was a model. "The feeling of being in front of the camera never resonated with me," she says, emphasizing how while she was the product, she felt pulled to make the product instead. Modeling did, however, give her the opportunity to see the world. 
She lived in Japan for six months and traveled through Europe with jobs in Spain and Germany. These experiences "introduced me to travel, which we didn't do growing up, Ange says. "Modeling taught me how to manage myself, manage money, and it introduced such an exciting fashion world filled with all diverse people and opportunities." 
With this desire to see the world and passion for fashion, Ange and Jim jumped at the opportunity to spend a year traveling in 2006.  
2006: Bali and India
Of all the places Ange and Jim saw on their globetrotting adventure, Bali and India were the places where Ange began to lay the bricks for the foundation of Cleobella. "In Bali, there was an energy exchange I had never felt before; I was so in love, the people, the food, the culture captivated all our senses. Our driver, Nyoman, introduced us to one of our very first makers, Yanti, whom we still work with today." Similarly, in India, Ange says, "I was so moved to see the women in their beautiful saris working so hard. It inspired me to focus on celebrating and uplifting women. At the end of the trip, the couple planned to move to Hawaii for a project Jim had arranged.
"I've always been into the arts and my dream was to have my own business," says Ange. "This was a great opportunity to make this dream a reality. We were married in Maui and had spent some time there over the years and one of my favorite places to visit were the weekend markets where vendors were selling their wares. It was a way to start my small business with ver little investment and overhead."
Named after Ange's mom, Cleobelle, a family name after her great grandmother, Cleobella was born. With connections made in both India and Bali and the seed of an idea, Ange and Jim moved to Maui.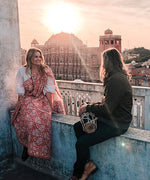 2007: Farmer's Markets
In 2007, Ange began selling at local Farmer's Markets in Maui. She had Indian wrap skirts, made of recycled saris, handbags, and our signature Mexicana clutch, hand-tooled by a family, who still makes a lot of Cleobella's leather work today.
"Without our vintage Indian block printed textiles and hand-tooled clutches, Cleobella wouldn't be here," Ange explains. "It's with tremendous gratitude that we have the privilege to build products in these two countries.
2008-2010: Fashion Week
The skirts and accessories were popular at the Maui markets, and it was there that Ange also developed as an entrepreneur, building a web store, designing a logo (which is Ange's signature), and selling to retailers on the island. Slowly gaining steam, Ange and Jim returned to Bali to solidify partnerships with their vendors.
Once there, Ange designed her first collection of leather accessories, working with the same vendors she met in 2006, to bring the collection to life
-and then to Fashion Week in Los Angeles.
At Fashion Week in 2008, Ange rented space in a boutique showroom at the Cooper Building called Nyali, owned by a woman named Gisella. At her first trade show she solidified partnerships with Planet Blue and Fred Segal. This kismet meeting led to Ange working for Gisella in the showroom while also gaining the ability to feature Cleobella's first products. The two went to Ange's first tradeshow together in New York, which was a huge success.
From 2008 through 2010, Cleobella partnered with new retailers, including ShopBop and Revolve, which helped put products like the Mexicana clutch on the fashion map. Using techniques like hand woven ikat and hand-tooled leather bags, Cleobella continued to draw inspiration from cultures around the globe. With the help of publicist Janey Lopaty, who helped get the bags into the hands of celebrities like Halle Berry, Vanessa Hudgens, Kate Hudson, and Jessica Alba, Cleobella began to take shape into the brand consumers know and love today.
2010-2012: Challenges and Growth
Ange continued to run Cleobella out of her house while living back and forth between Bali and California until 2012. Then, she found a boutique in Sunset Beach; a 1920s cottage with office space in the back and retail in front. Around the same time, the brand brought on a new sales team and hired two full-time employees.
With this momentum, Ange was also inspired to create her first clothing collection. "I ended up finishing it while I was pregnant with our second child. We designed our own prints inspired by ikat and batik [Indonesian fabric dyeing techniques] and we made it all in Bali."
The collection launched in 2014 and was a wild success, more than doubling the company's profits, which allowed us to move to a larger headquarters and hire a team to help us grow to the next level.
Mid-2010S: Expansion
Clothing was a new journey for the Cleobella team and while the first collection was made in Bali, Ange knew she also wanted to get back to India. "In Bali, I was in factories all day," Ange explains, "going to the button supplier, the trim supplier, every detail separately, and building a collection that way very organic and raw-while riding around the island on a motorbike. It was exciting, I was hand sketching designs in my notebook, meeting new artisans, and working with patternmakers to bring my collections to life." As our company grew, we developed relationships with new factories in India to help expand our production capabilities, allowing Ange to focus on other areas of the business.
Meanwhile in Bali, we expanded our accessories business with Yeni and Harry, early Cleobella partners. We contributed to a factory Harry built where he continues to make a majority of the brand's leather goods. Ange says it's been incredible to see the company's partners' lives evolve over time, as Cleobella has grown and provided more and more work. "Another example is Arief, we have been working together for over 10 years. He makes our hand-carved Bali bracelets. We sell them twice a year-for Mother's Day and the holidays.
We have a waitlist every year and we love being able to make custom named bracelets for our customers while giving work to Arief and his family. Over the years, Cleobella has grown its partnership in India, run by Rohita, a vital member to our team. She is on the ground in India, working and vetting all of the factories through Cleobella's strict ethical agreement policy and certifications.
Through distance, language barriers, and of course, a global pandemic, it hasn't always been the easiest or most cost-effective choice to work this way, but it's a decision on which Ange never waivers. The makers and artists in Indonesia and India have not only influenced Cleobella's designs, but by staying so connected to these places through people and production, Ange sees Cleobella's artisans as the lifeblood of the brand.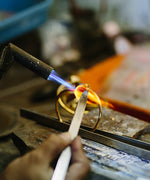 Today: Following Our North Star
Today, Cleobella is still family owned and operated by original founders, Angela & Jim O'Brien.
While there have, of course, been challenges along the way, the team at Cleobella makes all decisions by following our North Star, which is celebrating femininity to create globally inspired and ethically handmade goods.
"I've always tried to listen to my heart and maintain integrity in our core founding values. There have certainly been times when I lost my way and the noise distracted me; however, my goal is to stay true to our vision of uplifting cultures, preserving heritage techniques, sourcing sustainable materials, celebrating femininity and designing timeless products to be cherished for generations. We continue to grow in a slow, healthy way, just like the designs we make, and we continue to learn on our journey," says Ange. Cleobella works with GOTS certified factories with a focus on sustainable fabrics that are biodegradable. Additionally, Ange explains, "we create sustainable incomes for partners we met on day one and have now nurtured those relationships for over 15 years."
Having met so many women along the way who inspired her own journey, Ange feels a sense of duty to give back and pay it forward. "What I noticed when I first went to Bali and India was that the women work so hard. We want to give back- to the planet, to these places, to women." Staying true to this ethos has enabled Cleobella to grow from a place of authenticity, and we're so excited to see what the rest of the journey holds.