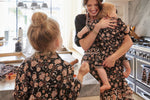 Bake This
Katherine Schwarzenegger's Wedding Granola Recipe
Katherine Schwarzenegger's Wedding Granola Recipe
Looking for a yummy snack for the holidays, or an idea for a homemade gift? Try the delicious granola that Katherine made and gifted at her own wedding!
Ingredients:
3 cups oats
1 cup dried cherries
1 1/2 cups almonds or walnuts
3/4  cup maple syrup
1/2 cup olive oil
1/2 tsp cinnamon
1/2 cup brown sugar
1 tsp kosher or big flake salt
1 cup shredded coconut
Make With Love:
Pre-heat oven to 300 degrees Fahrenheit.
Combine all ingredients and spread on a baking sheet.
Bake for 30-40 minutes, tossing a couple times throughout. 
Treat Yourself This Holiday Season
Every home chef needs a special baking set to call their own! Inspired by memories made together, the Betty Set is all about embracing the heartfelt holiday moments, where time seems to stand still and memories are created.
Snag your Betty Apron, Betty Napkin Set, and Betty Oven Mitt Set before they're gone!