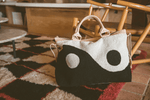 Buy the Change You Want to See
Buy the Change You Want to See
 Buy the Change You Want to See
Consumers around the globe are asking questions, and expecting truthful answers from brands they trust. Jane Mosbacher Morris, Founder, and CEO of To The Market shares her vast experience and thoughts on how we can drive positive change simply through the gifts we buy for others to our morning coffee choice. This book is an essential read this season, and a helpful guide to set the tone for the rest of your purchases going forward. As a brand, we have read through and discussed the responsibility we have to share this guide with our customers, friends, and peers. Cleobella thrives through meaningful conversations that help to guide us to a brighter future for all. Morris also mentioned the importance of continuity and that spoke so loudly to us as a brand. We strongly believe in the significance of this statement and have witnessed first hand how using our purchasing power creates positive generational impacts for our partners around the world. You have the power to uplift others  simply through what you choose to buy. We have highlighted each of the points that hit home for us and want to credit some of the incredible shared resources / groups that are working wonders and making monumental efforts to put forward positive generational change around the globe. 
Through reading this remarkable book we have reviewed in-depth how our "Our purchasing potential is like an untapped superpower" (Morris). Jane explains how each purchase truly matters and takes into account how crucial it is to research companies putting in the work to create positive impacts. People around the world who do not have access to the ecommerce world, do not have the same options as we do. If you're reading this, you have some device that allows you to purchase just about anything you could imagine. You can use your privilege to purchase with integrity for the world in mind and help to circulate prosperity back to the most vulnerable. Jane also goes into detail about how easy it is to feel doom and gloom when talking about goals for the future that seem unreachable and unattainable. She explains how "The best way to take action is to remind [yourself] of the tools that are at [your] disposal right now to make change" (Morris) and how we can use our privilege to bring prosperity to communities through what we buy or a simple switch in the brands we invest in. We have the ability to bring forward positive impacts through each and every transaction we make. The artisan industry is the second largest industry in the developing world. We have the option to make purchases that uplift makers and their families to create lasting economic prosperity for communities globally. Lets work together to vote with our investments and choose to support brands and companies going above and beyond to help clean up and nurture Mother Earth the way she deserves. There are nonprofits and companies that are paving the way toward a brighter world and Jane Mosbacher Morris is helping to spotlight some of those courageous creators for the world to see.  Here are just a few of the amazing groups Jane shared: 
- Cast LA has been working for two decades trying to end human trafficking and has supported thousands of survivors on their journey to freedom, from counseling and mentorship, to legal resources and housing, to education and leadership training. They are also an advocate for groundbreaking policies and legislation to end human trafficking for good. 
- Free the Slaves knows slavery has been outlawed everywhere, but it has not been eradicated. Free the Slaves exists to help finish the work that earlier generations of abolitionists started. Working Globally in the Americas, Africa, India, and Nepal Free the Slaves also helps to prevent future trafficking from taking place. 
- Freeset Trust is an indian base NGO that works to eradicate human trafficking in Kolkata,  a major redlight district area in Inda. They provide a safe working space and mentorship to women looking to escape the harsh realities they may face. Through creating custom bags, Tshirts, and accessories they are able to elevate themselves in a way every woman deserves. 
- Dress for Success helps women prepare for job interviews and  life skills training toward economic independence. We all know how important it is to feel good in what you are wearing, especially on a big day that could possibly change your life. We are in awe of how this organization is making it possible for women to attain their goals simply through what they wear. 
- Becca's Closet provides prom dresses donated to girls in need of help for their big day and might otherwise not be able to attend without the help of this amazing organization. We love what Becca's Closet is doing for young girls and helping to make dreams come true.
- Brides Across America  helps military brides by giving them used wedding gowns to feel beautiful and perfect  for their most special day. Something every bride deserves. 
- Once Upon a Child is the largest US resale franchise that sells baby and kids clothing as well as offering parents the opportunity to sell old children clothing for cash on the spot. 
We also know that the younger generations are statistically more likely to purchase products that are ethically made.  You control how the things you buy are made, simply by...purchasing it. If you decide to support a brand or company making efforts to help uplift communities, you are using your privilege for prosperity. Taking extra effort to research brands that are cultivating positive growth and taking action toward the greater good not only makes you feel uplifted but truly impacts lives around the world by providing resources, aid, food, shelter, working programs, education, and more. You can participate in projects like this globally by supporting brands that are taking action.  Jane also goes into detail about how something that is made custom could mean a lot more than something identically mass produced. You are your purchasing boss, and have the power to choose what is in what you buy and who makes it. At Cleobella we try to implement small details that remind you of our makers and the love they pour into our products as they create them with their hands. We have witnessed how creating a system based on the prosperity of your people can generate true magic. A magic that expands with each and every transaction made. We are humbled to be a part of such an extraordinary process that allows us to share these incredible stories with all of you. This is why we do what we do. For our artisan partners, customers, families, loved ones, and future generations. It takes a collective to make positive growth or change and we will continue to make efforts that help to lead the world in the right direction. 
At Cleobella we acknowledge "The next generation will live in the poverty of the current one" (Morris). Our actions truly matter and have a huge impact on generations following us. We owe it to them to do our best to leave this world better than we found it. This is a way you can show others that you put thought into all your purchases, even the purchases you give as gifts. It is time to make all our purchases have purpose and for consumers to solely buy from brands that are making efforts for humanity and our planet. Our goal is not to shame what you already own or your habits, but rather to inspire as many people as we can to think about their future purchases and how you can harness your purchasing power for the greater good. Having these conversations with you also helps to keep our team accountable as we grow and learn together. Each transaction matters, and every gift counts. We can truly make a difference simply by where and who we allow to swipe our cards. We ask that you please do your best to swipe with intention, purpose, integrity, and the most vulnerable in mind. When you do make your next purchase, I hope you consider the safety and wellbeing of all the people that made it possible for you to even do so. We hope that if you can, support Jane and read her amazing book that goes into great detail on how we can use our privilege to  #buythechange we want to see in the world.