Cleo Woman
Katherine Schwarzenegger
Can you tell us more about the inspiration behind your newest book, Good Night, Sister? How do you keep your strong bond with your own sister?
I wanted to write this book to honor the relationship I had with my sister, Christina, growing up and that I am lucky enough to have today. Christina and I are very close in age and we did everything together when we were little. Even though she was younger than me, I made her do everything first; camp, sleepovers, getting her ears pierced etc. She was the person I leaned on to feel brave. When I became a mother two and a half years ago, I found myself overwhelmed by all of the memories of my own childhood. At bedtime when I was in the rocking chair with my daughters, I found myself thinking of myself as a child and remembering so many fun and beautiful times growing up. Often, all of the memories I was reflecting on were shared memories with my sister. I would look down at my daughter, Lyla, and think how amazing it was that I had my own little girl now and how amazing it would be if she had a sister like I did growing up. I wrote the book, finished it and after it was all done, I gave birth to (surprise!) another little girl, Eloise; sisters! Both the relationship I have with my sister and the one with my own two girls is the inspiration for this book; celebrating and honoring sisterhood, in all its forms. I keep my bond strong with my sister by spending a lot of time together and even if we aren't physically together, we are always checking in on each other. We are really close and I know that's not the case for all siblings, and I feel very blessed and grateful for the closeness between us. As we have become older, we are even closer, and to watch our relationship grow and evolve has been so special. I never take our bond for granted. We both work really hard at our relationship and staying present and active in each other's lives; it is an absolute priority for both of us.
What inspired your newest collaboration with Cleobella and how do you feel when you are wearing the collection? How do you hope other women feel in these dresses?
I am obsessed with both versions of this dress and feel so lucky and grateful for the opportunity to collaborate with Cleobella. I have always loved all their dresses, and found myself in a few of their pieces quite often last summer in my post-partum stage. I love that their dresses are perfect for everyone, no matter what shape or size you are or what kind of life you live. If you're off to a fancy dinner it's a perfect dress and if you are running around with your kids, it's a perfect dress. One of the key parts we wanted to highlight with this collaboration is that both of these dress styles are perfect for any phase of life, including pregnancy and post partum, and to have the dress make you feel beautiful and have it be functional for all the hats us women wear (hence pockets!). Since I have two girls I also wanted to be able to have a mini version of the dress so I could match with my girls and my sister and mom all at the same time. A family affair! I hope women wear this dress and feel beautiful and confident wherever their day takes them.
The color purple, which is the main color of your new collection, is often associated with ambition, creativity, wisdom, and independence. How does this reflect on you and how you are as a mother, sister, and daughter?
I strive to tap into all those qualities in the roles of mother, sister and daughter. When I think of the women in my family, they really embody all of those characteristics. I hope to raise my daughters to be ambitious, curious, creative and independent.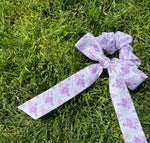 You balance so much with being a Mama, Wife, NY Times Bestselling Author, and Animal Advocate. Do you have any daily rituals that help keep you grounded?
I would start by saying yes it's a goal to balance all the roles of life, but I don't balance them perfectly every day by any means. Some days I feel like I did one role better than the others and I try to be gentle with myself as I navigate the desire to have balance with the roles in life. The most important one is the role I have as a mother. It is the role that is the newest for me and the one I am loving and learning so much about. It's also the role that comes with a lot of unpredictable times and the village that I have around me to lean on when I need to be active in other roles has been tremendously helpful. I have also become comfortable asking for help when I need it and that is something I never used to be comfortable with. Since becoming a mother it has been very needed, not only for me, but for my kids. Plus, they love spending time with my sister and mom so they love when I call on Mama G and Aunti to spend some time with them.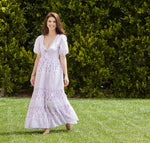 What is a piece of advice your mother gave to you that helped guide you as a mother?
To have fun! My mom has always had a blast as a mama. It comes with ups and downs and lessons of course, and giving yourself grace. I look back at all that my mom had on her plate when the 4 of us were young and I am in awe of her and how she balanced it all. I reflect on it and just remember always looking at her and watching her as a mom and always thought to myself, "my mom is the most fun mom and is always down for adventure". She never seemed stressed or overwhelmed by everything (and she had A LOT going on and still does) but through everything she always let her kids know and feel loved beyond and we always had fun. And keep in mind, she is still that way even as we have gotten older and is even more that way as a grandmother!