Can you tell us a bit about yourself and your journey to where you are today?
My name is Pamela Tick. I am a DJ/model/creative entrepreneur born and raised in New York and spend most of my time between NYC and Aspen, Colorado. I moved to NYC to pursue my passion for music and "style." Rekindled with my first love and married him. Learned to DJ and worked fashion parties all over the world. Still do. Made a baby. Her name is Miller Delilah.
What is your favorite part about being a creative?
My favorite part of being a creative is the freedom of expression. I use my platform to share my lifestyle and spread the good vibes and positive energy..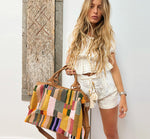 Do you have any daily rituals that help keep you grounded?
Things as small as a hot bath or morning meditation can be the biggest game changer of a day for me. My daily habits include hot water with lemon and honey at all hours of the day, either yoga or a morning walk. Things as large and important as telling my baby, my dog and husband how much I love them everyday, being grateful for health and never taking time for granted. And laughing. I think having fun is so important.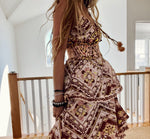 Do you have a playlist that you're listening to on repeat right now?
My playlist called "NEVER GETS OLD" on Spotify has been a go-to for the last few weeks and with a title like that, it might just be a go-to forever. It's some of the best oldies but goodies. Each song brings back a certain time in my life and holds a special memory for me."
What is your favorite spring tradition? Favorite part about getting dressed during the spring season?
My favorite spring tradition is 4/20. I love the way my style can stay consistent but also change based on the season. Spring means stepping down from the heavy textures and moving on to lighter ones. Change of color palette as well. It's a time where I'm whipping out my essentials; a good jean jacket, leather jacket, my favorite Levi's, suede sandals, and adding some beads to my ankles & neck.
How would you spend your ideal spring weekend?
I love a good road trip. Driving is an activity where I can focus but also relax. A good playlist is on. Music up. Windows down. Bulldog and baby in the back. Exploring new places. Learning new cultures. Trying new foods. Immersing myself in a certain place and then getting back into the car for the next destination is a thrill I know and love, during any and all seasons.
What travel destination do you find yourself going back to again and again? One that you feel most yourself in?
It's Aspen, Colorado for me. Every time I land there it feels like home. Sometimes more so than where I grew up and was raised. I always said I feel like my best self in Colorado. The weather, the air, the people, it's activity central, the healthy lifestyle, the sense of community, dog-friendly, the overall vibe. Whether it's ski season or bike/hike season, Aspen is my luxurious outdoor playground that I refer to as "my little slice of heaven".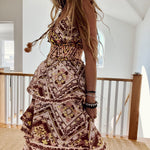 What's one piece of advice you would give to your younger self? To your daughter?
One piece of advice for my younger self and that I would also give my daughter- "You can be whoever you want to be. Just give it your all"
What is a favorite quote of yours? Or a special saying that you go back to time and time again?
"Leap and the net will appear"."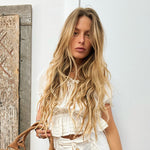 Do you have any book or podcast recommendations that you are especially loving right now for our community?
"The Year of Magical Thinking" by Joan Didion. Joan passed away in December of 2021 so I picked it back up and fell in love all over again.