Cleo Women
Olivia Wilde & Babs Burchfield
You've been best friends and business partners for 10 years. How did you know it'd be a match?
OLIVIA: We were on our way to Haiti together. Babs was running an organization called Artists for Peace and Justice… She was such a baller, in terms of running this organization, being an authentic human, having a full creative vision, and raising money and doing outreach without being smarmy at all. I was in awe. At that time, people weren't necessarily thinking of me being business-minded, but I really am. And she really is, in exactly the same way… It shouldn't be hard to know where your clothes come from.
What made you interested in partnering with Cleobella?
BABS: I think the thing that is so impressive about Cleobella is that it truly is about taking care of every aspect of the process. Cleobella really believes that their artisans are partners. It's not even a question to them—like, yeah, of course they are! Of course, there isn't child labor [used to make the garments]. Of course the manufacturing practices aren't polluting the earth. This is so standard to them! And in order to see a healthy Earth and healthy people, and still acknowledging that people love fashion and people consume and buy things and that's not going to change, every company should be considering all of this. And Cleobella is really leading that industry standard. Everyone should be watching what they're doing.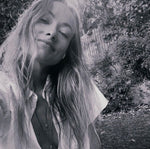 How would you describe this collaboration with Cleobella?
OLIVIA: These are the kind of staples that I would argue everyone can keep in their wardrobe for a long time. And I think if we can allow people to understand that aside from them being sustainably produced, investing in timeless pieces is something that will actually allow you to also be on trend through several different seasons. That's something that I think people appreciate. We want to encourage people to spend their money wisely and consciously. And I think that this collection felt very much in line with that ethos of 'hold on to your goods and treat them well and wear them for a long time and give them a life and a story and pass them along.' I think that's because Cleobella does a really good job of understanding what people want, how they want to feel, and it feels made from a sensitive and international standpoint. It's globally fashionable and timeless at the same time.
What is one of your favorite things about the styles in this collection?
BABS: You can't really go wrong with neutrals, I think we're so attracted to neutrals, because they mean you could add black, you could put them with color, you could wear them with a hat. It isn't like,'Oh, that's a dress I want to buy to go to Italy, full-stop.' It's like, 'Oh, no, that's a dress I could wear in multiple places and style it in a different way.' So you know, I think pieces that are neutral are often timeless.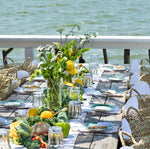 Can you tell us a little bit about what inspired Conscious Co.?
BABS: Now you can't go for coffee without them telling you, 'The beans are from here. They're responsibly harvested. They benefit this community.' But when we started, it wasn't that way! And we were like, 'We'd be so much more inclined to invest in fashion if they showed us where our dollars were going.' I've been on factory tours [of some fast fashion facilities], and it's horrific. The conditions, the wastewater; you can't unsee it. Healthy people and a healthy earth need to go together. That's not optional. Everyone says they're 'sustainable,' but no. The future is regenerative. It has to put resources back into the earth, and back into communities.
How did you come up with the name Conscious Co.?
OLIVIA: We always joke, now that we've been talking about this for so long, that the term conscious consumerism at the time felt really nerdy. And now feels very basic!
How does one embrace that vision of having new style, but not necessarily new clothes, all the time?
BABS: I try to only buy something if I can see a full life for it. It isn't like, 'Oh, that's a dress I want to buy to go to Italy,' full stop. It's like, 'Oh, pack that for Italy, then throw a sweater over it at a beach party, then do a major heel for cocktails,' right? That's style. And there's something very sexy about that versatility, and the intelligence you put behind it.
Has social media made your mission easier or harder?
OLIVIA: We're trying to encourage people to be more thoughtful about what they wear and how they buy it. We love this Cleobella collection because it's both timeless and it's on trend. It's meant to last you multiple seasons, multiple adventures… But now, on Instagram, there's a culture of taking pictures in a different outfit all the time, and trying to prove that you're constantly a new version of yourself. But you can still do that with lighting, with camera angle, with styling. It's so cool to stand for something. That person getting paid to tag Forever 21 because they have an endorsement deal, and they don't really care? They're not standing for something. That's the conversation we're fighting to have.