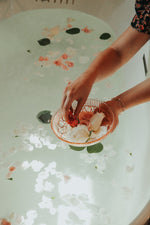 Cleobella X Muse Bath
Cleobella X Muse Bath
A few weeks ago we had the pleasure of spending a peaceful morning with Muse Bath Apothecary founder, Kristen Flores. Muse Bath is a botanical wellness studio that crafts bathing and beauty rituals to muse the soul. She is inspired by the healing beauty found in nature and how our daily self-care rituals invite ceremony into our modern lives. Each of her products are intentionally sourced with sustainably harvested botanicals, whole essential oils, and the finest quality of minerals from around the world. They are organic, vegan, and both chemical and cruelty free.
Kristen lead Ange, Cleobella's Founder, through each of the seven steps of her Muse Bath Ritual. See below to recreate this self-care ritual for yourself at home.
1. Tuning Inward
Begin your bath ritual with tuning inward and set an intention for your Muse Bath. You can choose to set the mood in any way that feels nourishing to the senses (light candles, turn on soothing music, dim the lights etc.). As you set the mood for your bath, take some time to journal and see what intentions arise as you tune inward. You can call in your any of your guides, as well as pull oracle and or tarot cards, meditate, pray, stretch, and practice some long deep breathing exercises before taking your bath. Your bath ritual is unique each and every time. Allow your intuition to guide your self-care practice. 
Goddess Card Reading & Journal  
We used Ange's Goddess Cards for this step, but any Tarot cards will do as well. If you don't have Tarot Cards to reflect upon, you can also reflect on anything that comes to you in the moment, a quote that speaks to you, or even an image. Set your intention for the bath and journal for a few moments. 
2. Anointing
Anoint the meridian points on your neck, temples. wrists, ankles, feet and heart-space with your Muse Bath Natural Perfume Oil. Allow the whole essential oils to nourish your skin and connect to the healing properties of aromatherapy to relax your senses. This will have a calming effect, especially after a long day. The anointing is beautiful because instead of placing the oil directly into the bath water, this allows the oil to truly soak in so you get more of the mindful and therapeutic effects.  
3. Water Blessing
Now begin running the water at the temperature you desire and filling your bath. With mindful intention you will add your Muse Bath Ritual Salt Soak to the bath. You may also add any bathing crystals you would like to add to the water as well. Out favorite bathing crystal is Rose Quartz to infuse the water with loving kindness and gentle compassion. 
4. Add Muse Bubbles!
If you would like to take a Bubble Bath, add your Muse Bubbles next!
5. Flower Offering 
Add fresh flowers to create a beautiful mandala in the bath water. If you have dried flowers you can create an herbal infusion and pour the tea into the bath water as well. Flowers and infusions create a luxurious feeling into your bathing ritual. 
6. Purification Smudge
Create a sacred container for you and your bath and light your favorite incense to purify your bathing space. You can smudge the bottoms of your feet to the top of your head to cleanse your auric field from any energy that you wish to let go of. This will clear and protect your bathing space and allow for a truly relaxing & fulfilling bath ritual. 
7. Scrub & Soak 
Your Muse Bath is awaiting you!  Now it is time to soak and allow the bath ritual to nurture you inside and out. Just relax and feel your nervous system unwind. Here at Muse Bath we say. "Dip Into Your Muses!" 
Thank you Kristen for leading us in this self-care ritual.
xx