Curating a Conscious Wardrobe
Curating a Conscious Wardrobe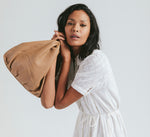 Curating a Conscious Wardrobe
After a year of uncertainty, we think it's safe to say everyone is ready for some stability. Your wardrobe should have your back. We want to be a part of the revolution for change in the Fashion Industry. Make the choice to rely on your personal collection to be conscious of your body and Mother Earth.
How to curate a conscious wardrobe, and keep it that way:
1. Invest in timeless pieces
When selecting items for your wardrobe, each new addition should be intentional. By investing in timeless pieces that are considered classics, you can elevate your personal collection to be one you can rely on. Choosing durable, natural fibers is a way to invest in items that will last many generations, and be kinder to Mother Earth. Certified organic, circular, and other certified responsible fibers are helpful guides to use when choosing clothing for your conscious wardrobe. Clothing with harsh chemicals and synthetic fibers are harmful to our planet, our bodies, and the people who produce it. When you purchase something you should always have the humans who made it and the planet in mind.
2. Care with intention
Cleobella's styles are globally inspired and intentionally designed to be conscious of the environment and stand the test of time. Cleobella was created from the love and respect for generational traditions and wisdoms. All of our products are designed to be treasured and passed down for many years. Each time you wear something you should salute the ones who made it by treating your piece with care and love, just as it was made. To preserve the beauty of each garment, we recommend you hand wash in cold water and lay flat to dry.
3. Cleansing your Space
Creating a warm and welcoming environment for your purchases is an effective way to prolong their lives and purpose. Items thrown, stuffed, or mangled into closest rarely get worn and hardly ever receive the treatment they deserve. Clearing your space to make room for your items gives them the volume they require to thrive best and the attention they so deserve. Taking care of what you already own is the best way to maintain a sustainable wardrobe. When cleansing your space you can sell or donate your unwanted items on second hand resale platforms like Poshmark, Depop, or Tradesy instead of them being sent to landfills.
4. Shop with Integrity
While shopping for new items it is important to make sure you are looking at what materials the product is made with. Where was it made? Who made it? At Cleobella, we list all materials and where our production for them takes place. We believe in investing in pieces that will be cherished, and passed down for many generations. Ethically responsible handmade pieces are statistically treasured greater than unethically produced items made in unsafe environments. Invest in pieces that bring sustainable incomes to the makers of your purchases and provide opportunities for them to thrive. Our makers are like family to us, and we want to continue this beautiful process to inspire others to shop with the people who made your clothes in mind.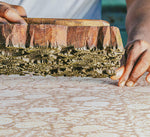 5. Purchase with Purpose
Most importantly, always use what you already have. Statistically, clothing is only worn seven to ten times before being discarded. Help to be a part of the solution by giving purpose to all your purchases and keeping them out of landfills. Cleobella garments are designed with versatility in mind. Majority of our pieces are intended to be interchangeable and can be worn multiple ways. Styling our garments in different ways can give an uplifted feel to something you already own in your personal collection. Most of our dresses come with belts, adjustable ties, and simple details that help you to easily obtain a completely new look with the same garment. Making these small conscious decisions to commit to slower sustainable fashion can truly help to inspire a collective change for better. If you buy something new, make sure it is a piece you can depend on.