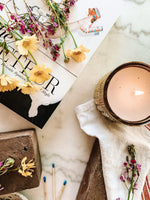 Cleobella's Flower Press DIY
4 frames (one set of 8"x10" and one set of 5"x7")

2 fire bricks

Cotton fabric or paper towel (Keep away from polyester otherwise it could burn)

Your beautiful flowers

Hot glue 
1. Choose the beautiful flowers you'd like arranged in your frame. It can be anything of your choice: big, small, bright or darker!
2. Grab one of the bricks and place the fabric or paper towel on top of it. Then, lay your flowers on top of the fabric.
3. Lay another piece of fabric or paper towel over your flowers.
4. Finish the layering process with adding another brick on top of the second piece of fabric or paper towel.
5. Once you've made your brick sandwich, go ahead and throw it into the microwave (not literally, we don't want to ruin our microwave)! You'll want to microwave them from 1-3 minutes. If they're bigger or thicker flowers, they should be left in longer. If they're white and smaller, it'd be best to microwave them for a minute. But regardless of how long you put them in, you must microwave them for an additional 30 seconds without the top brick.
a. Caution! Don't press the bricks together afterwards because it'll break your pretty flowers and we don't want that to happen!
6. Once the flowers are nice and crisp, you're going to display them on the glass frames how you like it designed.
7. Take the second glass frame and hot glue it over it.
a. Tip! If you want the flowers to move around within the frame, grab something slim like a phone or a soda pop between the glasses to keep some distance for that movement!
8. Hang your floral frame by the window or wall and enjoy!
XO,
The Bella's