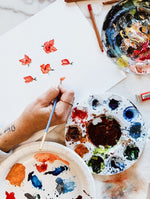 HAND DRAWN WITH LOVE
FALL 2019 FLORALS
Take a look behind the scenes of the design process for the florals in our new Fall 2019 collection. 
Our intricately hand-drawn and painted floral pattern was made with love and our Cleobella beauties in mind. 
We hope that when you wear these hand-made pieces, you feel beautiful and empowered to take on any journey that comes your way. 
We are so proud of these limited, small batch, un-mass produced garments that we poured our hearts into. 
Creating thoughtfully made, intentional pieces puts us one step closer to the bigger picture. 
xo,
The Bella Tribe