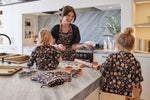 Bake These
The Shriver Family Cookie Recipe
Shriver Family Cookie Recipe
"The scent of my mother baking holiday cookies with Christina and I and the sweet aroma of hot cocoa inspired me to bring this holiday collaboration into the kitchen. It's the heart and center of the home during the holidays and where so many core traditions are made and passed down from generation to generation."
- Katherine Schwarzenegger
Ingredients:
3/4 cup granulated sugar
3/4 cup packed brown sugar
1 cup salted butter, softened
1 tsp vanilla extract (or measure to taste)
1 large egg
2 1/4 cups all-purpose flour
1 tsp baking soda
1/2 tsp salt
Chocolate chips to taste
Make With Love:
Heat oven to 375 degrees.
Whip the butter and sugar with an electric mixer until light and fluffy, then beat in vanilla extract and egg.
Stir in flour, baking soda, and salt (dough should be stiff).
Stir in chocolate chips.
Drop dough by rounded tablespoonfuls about 2" apart on parchment lined baking sheet.
Bake for 8-10 minutes. The cookies may look underdone, but will continue to cook and firm up. 
Looking For Gift Ideas?
Your loved one will love our Betty Set! Inspired by memories made together, this collection is all about embracing the heartfelt holiday moments, where time seems to stand still and memories are created.
Shop the Betty Apron, Napkin Set, and Oven Mitt Set today!