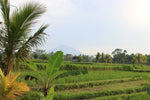 People, Planet, Process
People, Planet, Process
People, Planet, Process
Cleobella's oath to our People, the Planet, and our Process.
At Cleobella we have three main pillars that are integrated throughout all of our operations. At each stage of design, development, sourcing, buying, marketing,  and planning we do so  with our People, the Planet, and our Process in mind. These three pillars are the foundation of our brand and the heartbeat of what makes all things possible for Cleobella.
Our People will always come first and we will advocate for that. Our makers are our most important stakeholder because without them we wouldn't be here today. This pillar includes our 1% donation of each purchase to organizations supporting artisans, women and girl's empowerment, and youth education. Our people also include our amazing customers, our beautiful team here in the US, and our supportive families. The admiration and love we have for the beautiful humans that surround us and make this all happen is forever flowing and we are so beyond grateful for each and every one of you.
The Planet as we know it is different today than it was 20 or 30 years ago. We are aware of its capabilities if we keep living and moving at the pace in which society is currently. It is resistance to slow down and have intention. To move at a pace that is slower than most, we have cleaned up all operations we can and are learning new and better ways to do things everyday. By solely choosing organic natural fibers instead of synthetic we can proudly say our clothes are better for you and the Planet.  We know we will never be perfect, but we will always do our best to be better.
Our Process is who we are and the foundation of each of our products. We have ingrained intention into all areas of Cleobella. Each one of our products is designed to be loved and passed down for many generations. We do not just make things to make them, we design products for a purpose: to uplift women and make them feel beautiful and conscious of the world around them. By implementing better ways, putting more effort in something the first time, and truly sticking to it, we have created an operation that we can be proud of. One that is flowing and works well. Not only for our People, The Planet, but to stay true to ourselves and to Cleobella. Learn more about our People, Planet, and Process on our Philosophy page.