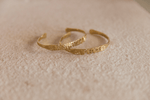 What Makes Cleobella a Sustainable Clothing Brand
What Makes Cleobella a Sustainable Clothing Brand
In 1887 the United Nation defined sustainability as "meeting the needs of the present without compromising the ability of future generations to meet their own needs." It is up to the people of the present generation to step up and make this world a habitable place for the future. Having these conversations helps to ignite change, and we are here for it all.
As the world continues to show the effects of climate change, it is the vulnerable communities who suffer the most. We have the opportunity to help those in need of support and to use our purchasing power to uplift communities globally. Our founders, Angela and Jim O'Brien, have seen first hand how the world is changing. Working together is the only solution to spark real lasting change. Through their travels they have had the opportunity to generate positive generational impacts to the communities and people they love. That is why they started Cleobella, to create beautiful timeless treasures, made by the hands of their artisan friends around the globe. Sharing these stories with you is the cherry on top.
Cleobella has always created with intention. We know it is all clothing brands' responsibility to acknowledge the harms the fashion industry contributes to the planet and continue to take part in the journey toward regeneration for Mother Earth. We are in no way perfect but strive to make goals and implement sustainable initiatives wherever possible.
We know being a sustainable clothing brand is an ongoing process and a never ending mission. The road to regeneration will take many lifetimes and Cleobella has made an oath to be on the right side of history. At Cleobella we also understand the importance of sharing our efforts with you so we can all be on the same page. We would like to share what we have been doing  along the way and some of our goals as a sustainable clothing brand to meet by 2025. 
What Cleobella is doing 
Cleobella works with ethically sourced, organic, biodegradable, and natural fibers 

Our trims are YKK

OEKO-TEX® STANDARD 100

certified, and the labels sewn inside our garments are also

OEKO-TEX® STANDARD 100 certified

. 

We are committed to only using non-toxic, natural, water based , and vegetable dyes like indigo and turmeric when possible. 

Our shipping bags are made from 100% pre-consumer recycled plastic (plastics already in circulation). They are 100% recyclable so that they can be reused and then made into something new.  

Our hang tags, packaging, tissue, and tape are made from recycled paper. 

We mostly use shell or corozo buttons, which are biodegradable closures. 

Planting trees globally through 1 tree planted and through our partnership with Noissue packaging.

Upcycling leftover fabric and leather to be used into accessories and jewelry bags leaving no scrap behind!

Implementing recycling programs at our HQ and warehouse.

Having office beach clean up days to clean up our communities close to home.
 Our  goals to meet by 2025
All dyes Bluesign or Oeko-Tex certified 

100% of Fabrics Organic, Regenerative, Or Fair Trade certified 

Become Carbon Neutral for scope 1, 2, & 3 emissions 

Incorporate alternative vegan and  plant based leathers 

Only using animal leather certified by the Leather Working Group 

Become B Corp certified

All factories WRAP or Fairtrade certified 
Our Giveback for the planet
One Tree Planted projects are helping to rebuild biodiversity in our most impacted regions. Through photosynthesis, trees convert carbon dioxide into the oxygen we breathe. These projects through One Tree Planted are also creating jobs and providing sustainable, long term income for communities so people and nature can live in harmony together. It is our responsibility as a brand to do our part by offsetting our carbon emissions wherever we can. By planting trees, we can create healthier habitats and help to eliminate greenhouse gases in our atmosphere. We have chosen One Tree Planted because we have the opportunity to offset emissions in specific regions where we contribute the most impact.
Learn more about One Tree Planted 
At Cleobella we understand this road is continuous and sustainability will always be at the forefront of anything we do. Being a sustainable clothing brand is not defined by what you've done but your vow to never give up on Mother Earth and to always strive to do better. 
Xx,