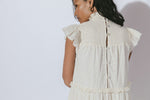 Why Cleobella Loves Organic Clothing
Why Cleobella Loves Organic Clothing
 Why Cleobella Loves Organic Clothing
Good For You and Mother Earth
Cleobella has made a promise to do what we can to regenerate Mother Earth. Using sustainable fibers and Earth conscious textiles are a priority to us as a brand. Cleobella only uses natural fibers like organic cotton, Ecovero viscose, linen, and hemp. We strongly believe in using fibers that are naturally derived and are easy on the planet if returned back to nature. Organic fibers are better for the environment and are safer for our customers. As well as the farmers and our artisan partners abroad. Majority of of products are handmade and are in constant contact with our makers. Having our products be made with the safest materials is something we will continue to strive towards. 
In addition to our clothing, we have also made sustainable efforts in our packaging to avoid it from being sent to landfills. Our shipping bags are made from 100% recycled plastic (plastics already in circulation) and are 100% recyclable. Also all of our hang tags are made of 100% recycled paper and are also recyclable. The packaging tape we use is made from gum craft paper and is 100% recyclable. You can feel good about leaving your tape on the box when you put it in the recycling bin because unlike other plastic based tape, ours is biodegradable and recyclable.
Why is GOTS organic cotton better than conventional cotton?
Cleobella's favorite GOTS (Global Organic Textile Standard) certified organic cotton is a safer choice than conventional cotton. Our cotton is made consciously to be easy on you and the farmers who cultivate it. GOTS certification ensures no genetically modified seeds, harmful pesticides, or synthetic fertilizers are used at all. The water used for these farms is treated, and not released into the surrounding communities.  There are strict social and environmental standards held throughout the entire supply chain from farm to finished fabric. This process is of the utmost importance to verify traceability throughout the supply chain, with our farmers, and our artisan partners. We want to provide you with pieces that are made with safe fibers, purpose, and integrity. Ensuring safety and prosperity for our makers is of the utmost importance to Cleobella.
Cleobella's largest factory became fully GOTS Certified this year and over 65% of our production takes place in this factory. We love sharing these accomplishments with you because as a small family owned and operated business, these achievements our artisan partners make are our dreams coming true. Cleobella thrives off the success of our makers. Knowing that everything produced there will be 100% GOTS certified is a relief and a blessing. We are so grateful for our global partners and are excited to continue to invest in organic clothing and believe in the importance of using conscious fibers.
Cleobella will continue to use conscious fibers like organic cotton, Ecovero viscose, hemp, and linen. As well as staying in tune with new and upcoming regenerative fiber options. We know it is our responsibility as a fashion brand to be aware of what is in our products and to share with you our efforts. Seeking perfection is not on our agenda. We will be doing our part, sharing our stories, and encouraging others to participate in invoking conversations that lead to a brighter future. Applauding our incredible artisan partners on their achievements is just an extra bonus! We are so beyond grateful for their commitment to doing better by mother Earth and being on this learning journey with us. Becoming a fully GOTS Certified operation is not easy and we want to give an extra shout of to our partners for making this happen.