Cleo Woman
AmyAnn Cadwell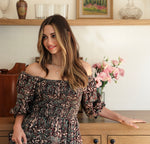 Can you tell us a bit about yourself and your journey to where you are today?
Hi all! I am AmyAnn Cadwell, I am Founder and CEO of Vrai Media, a lifestyle and multi-media company based in Los Angeles. In 2014, I co-founded The Good Trade, and alongside an amazing team, have built the brand to scale providing over 100M readers with editorials on sustainability, slow living, and self-care. In addition to my work with Vrai, I co-founded Soundly in 2022, the first-ever hearing health marketplace where consumers can compare hearing aids in one place. I also serve as an angel investor and advisor for mission driven startups.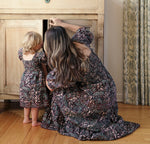 What is your favorite holiday tradition? What are you looking forward to the most this holiday season?
I love gift giving and receiving! True to my Taurus nature, I love the hunt for pieces that tell a story of uniqueness and friendship. It is a thrill to share found treasures with friends and family!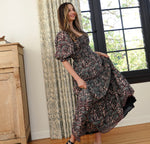 What is your favorite part about getting dressed during the holiday party season?
In Los Angeles we rarely get cool weather, the holidays are a special time to add layers and a touch of formality.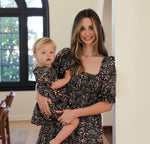 Do you have any daily rituals that help keep you grounded or focused during this especially busy time?
I journal for five minutes every night and have kept up this practice since I was a teenager. Just a few sentences a day helps keep me spiritually grounded in gratitude and compassion.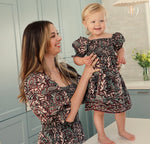 What do you do, wear, go, eat to feel your absolute best during the holiday season?
Sleep, hydration, and exercise are key for me to feel well in my body and mind. Why did it take me so many years to find this magic formula?!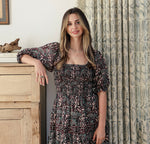 What is your favorite piece from the TGT x Cleobella collection? The piece you will be gifting to others this season?
The Saanvi Ankle dress has quickly become a favorite in my own closet, it can be dressed up or down, layered beautifully, and will be an all-season go-to for me for years to come.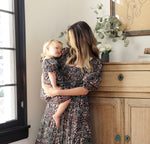 What is one piece of advice you would give to your younger self? To your daughter?
You are your own center of gravity, do not rise or fall for another.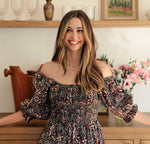 What is a favorite quote of yours? Or a special saying that you go back to time and time again?
I always turn poetry to center myself—Maya Angelou, Emily Dickinson, Mary Oliver. Among my favorites: "Instructions for living a life. Pay attention. Be astonished. Tell about it."― Mary Oliver
Do you have any book or podcast recommendations that you are especially loving right now for our community?
Being Well with Dr. Rick and Forrest Hanson. I love absolutely everything Dr. Hanson has written on cultivating happiness and resilience in your life, and I just discovered his podcast hosted alongside his son. It's heartwarming and full of truth.