Cleo Woman
Kelly LeVeque
Don't go after a life, or career, or monetary value, even if it feels safe or stable, that leaves you unfulfilled. Stay inspired and willing to grow.
Can you tell us a bit about yourself and your journey to where you are today?
I have been working as a nutritionist and celebrity health coach for 11 years. Prior to this, I worked for 8 years in cancer and genetics, specifically tumor mapping. I was on the genetic side of ovarian and breast cancer, which inspired me to go back to school for nutrition to learn how to prevent curable diseases and support optimal health through the foods we eat. This led me to create Be Well by Kelly as a side hustle/passion project while I did my private practice, which extended into teaching the science of blood sugar in my online courses and Body Love books, and then creating my own line of protein powders to further support my clients and help as many of you as I can! After spending 20 years in LA, I made my way south to Orange County to live closer to the beach, where I now reside with my husband and two (soon to be 3) boys.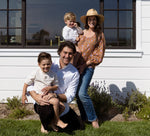 As a busy mother, entrepreneur, podcast host, and nutritionist do you have any daily rituals that help keep you grounded?
Having a consistent morning routine has helped me stay grounded, starting with having a Fab 4 smoothie every morning, aiming for 30 grams of protein to regulate hunger hormones, increase satiety, and help balance my blood sugar for the rest of my day. I also hydrate first thing in the morning with a tall glass of water and LMNT electrolytes. And lastly, this past year I started dedicating 18 minutes every morning to my six phase meditation practice. It's made a world of difference in how I operate day to day with a calm headspace and my heart full.

Throughout the day, I make an effort to spend as much time outside as I can, especially when I am feeling stressed or overwhelmed. Staying active during my pregnancy by going for walks in my neighborhood with my boys is my current form of movement to keep me grounded. We also recently built a small garden in our backyard, which has encouraged us to eat more produce and really appreciate the food we grow together. At the end of the day, it's really about showing up for myself in small ways, prioritizing 1-2 big ticket items that I need to get done, and simplifying my to-do list. This has really helped me be less reactive and overwhelmed throughout the day.
What have been some of your most impactful interviews/conversations on your Be Well Podcast?
I've truly loved all my interview guests and the different perspective, science, and knowledge they bring, but some stand outs are Ben Bikman on blood sugar, Dr. Palmer's recent discussion on how inflammation in the brain and metabolic dysfunction can lead to mental illness, Sarah Hill on the effects of birth control, and my first ever podcast guest, Dr. Andrew Huberman on optimizing sleep.
We are huge fans of your Be Well Protein powder! Can you tell us more about your product line and some of your favorite ways to incorporate them into your daily routine?
Thank you! Creating my own protein powder has always been a dream of mine, and it's amazing to see that vision come to life. We now have two varieties, grass-fed beef isolate and a plant-based chocho bean protein powder, each with 20-24 grams of protein per serving, complete with all 9 essential amino acids in organic vanilla, chocolate, or unflavored. True to my protein quality standards, they are made using a chemical free and enzyme-free process with water and heat only. They are both keto and paleo-friendly, gluten-free, nut-free, dairy-free, soy-free, egg-free, and sugar-free…it has all the nutrient density you need and nothing that you don't.

You can use Be Well protein in Fab 4 smoothies as a convenient, nutrient-dense, and delicious way to get in over 30 grams of protein. The Fab 4 is an easy-to-follow formula for creating blood sugar balancing meals of clean protein, fat, fiber and greens, which can help you naturally burn fat and keep energy consistent throughout the day, avoiding insulin spikes that tell our bodies to stop burning fat and start storing it. I also love using my protein powders to create high protein snacks, like my paleo patties, protein balls, chia pudding, freezer fudge, or even mixed into my coffee. The possibilities are really endless, and you can find more recipes on my blog or Instagram @bewellbykelly.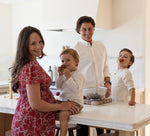 What does your perfect Summer day look like?
My perfect summer day would be waking up early, having a cup of coffee and morning cuddles with my boys, then sneaking away to a hot yoga class, switching into a bathing suit afterwards and packing a cooler for the beach to spend the day there with my family. After that, we'd come home and fire up the grill for a barbeque in our backyard, watch the sunset, and most likely go to bed early. It may not sound exciting, but it's a pretty perfect day in my book.
What is one piece of advice you would give to your younger self? To your kids?
One piece of advice I have is to always follow your heart. Don't go after a life, or career, or monetary value, even if it feels safe or stable, that leaves you unfulfilled. Stay inspired and willing to grow. You can always pivot, and ultimately, your connection to the relationships with yourself, friends, and family, following your passion in life, how you can contribute, help others, and give back to the world, is all that truly matters. And of course - nothing matters if you don't have your health, so taking care of your mental and physical wellbeing should always be a priority.
What key ingredient do you add to your dishes that makes everything better?
Herbs + citrus! We can take plain chicken and veggies and turn it into a flavorful dish just by adding in fresh herbs, like cilantro, dill, pesto, or chimichurri, and a squeeze of lemon, lime, or orange.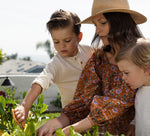 What is the biggest piece of nutritional advice that you would give to women with young kids?
I think it's really important to inform and empower kids around their food choices. I always recommend teaching kids the importance of starting their day with protein, educating them on different fruits and vegetables, and why it is important for your mental health, physical health, and gut health to prioritize healthy eating. It's not always easy to get them to eat a full plate of protein and veggies, but every effort toward encouraging food acceptance for your kids will pay off in the long run.

As parents, it is our responsibility to make mindful nutritional decisions for our kids. It's all about controlling the controllable, which is the foods we fill our home with and what we feed our family. It's not about labeling anything as good or bad, or never giving them a cupcake or cookie or sugar, but the Fab 4 reminds you to add the essential nutrients to your child's plate that balance blood sugar, build their microbiome, and ensure nutrient density before handing them a sugary treat. When you know the science behind the impact food choices have on child development, behavior, mood, and their overall wellbeing, you take the job of feeding your kids nutrient-dense food seriously. We shouldn't feel shame about setting boundaries around the foods our kids are eating, especially when we have an opportunity to set them up for success in making healthy food choices by exposing our kids to various fruits and vegetables at a young age to diversify their gut microbiome and ensuring they are getting the necessary vitamins and minerals in their diet, all while increasing curiosity around whole foods.
How would you describe your style and what are you wearing on repeat?
I live for florals, so Cleobella's blouses and dresses are staples in my wardrobe. It's either jeans + a floral/white top and slides, or a flowy floral dress in the summer. I love that Cleobella offers comfort and style for every occasion!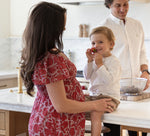 What is a favorite quote of yours? Or a special saying that you go back to time and time again?
"The days are long but the years are short." In this stage of life, I feel inspired to squeeze the sponge in everything I do with my boys. Every time I look at them, I feel like they are getting older by the minute and I want to absorb every moment with them, slow down, and be present with where we are right now.
What's your favorite meal to make for picky eaters?
Anytime I can get my kids involved with meal time, I am all for it. We love a homemade pizza bar with Capello's almond flour pizza crust and set out a variety of veggies and protein toppings for my kids to add to their pizza. I've found that the more involved my kids are, the more willing they are to try new foods (even veggies) and truly love the food they're eating. Another picky eater hack is shredding in zucchini or carrots with a cheese grater into a meat sauce, and serving that with Tolerant lentil pasta for extra protein and fiber.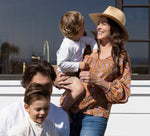 Do you have any book or podcast recommendations that you are especially loving right now for our community?
I've been loving Dr. Becky Kennedy, she's a parenting specialist offering practical advice and guidance, and the Huberman podcast! My favorite books are Six Phase Meditation by Vishen, Deep Work by Kyle Newport, Energy by Dr. Palmer, and for expecting parents, I recommend Siblings without Rivalry.