Cleo Woman
Sarah Wright Olsen
Can you tell us a bit about yourself and your journey to where you are today?
I grew up in small town called Horse Cave, Kentucky with my mom, dad and brother. Our lives were lived outdoors in nature as much as possible. I eventually found my way to LA after living in Chicago and auditioning for a tv show that became my first acting job. I have now lived in LA for 18 years, I'm married to my love who I have been with for 15 years and we have 3 children Wyatt, Esmé and Winter. I'm an actor, co-owner of baeo.com an organic plant based skincare line for the whole family, co-founder of yourzenmama.com and Author of 'The Zen Mama Guide to Finding Your Rhythm in Pregnancy Birth and Beyond.'
We are so excited about The Zen Mama Guide launching in the US! Can you tell us a little more about the book, what inspired you to create it, and/or any of your favorite parts of the book?
We were approached originally by Penguin Random House Australia to write our book and we were over the moon. We later brought it to the US and partnered with Harper Horizon to create a version for the US market including new stories, references, studies and contributions from friends.

We cover everything from the moment you begin thinking about starting a family, to fertility, conception, pregnancy, birth, postpartum: mind, body and baby, pregnancy loss, babyhood and beyond! We share our personal stories and experiences, have beautiful contributions from friends and expert advice from medical professionals, chiropractors, and pediatricians as well as a thorough resource guide.

I think my favorite part of the book is the Birth Power section. I personally love reading about birth and birth stories. I love learning and hearing about all the different ways that women use their bodies to bring babies into the world. Every story, every birth is unique and I find that fascinating.
What's one piece of advice you would give to your younger self before becoming a mama for the first time?
Don't be so hard on yourself. It is ok to be home with your little ones and it is also ok to take time for yourself and do the things in your life that fill your cup.
What would be a valuable piece of advice for a first time mama? What is something you wished you had known?
Allow yourself the time to heal. The first 40 days with your little one should be spent snuggled in bed at home. You should keep it slow and easy if you can, eat warm foods, be close with your baby and allow them to enter this world gently. You will both be in the fast pace of life soon enough but there will never be another time like those first few weeks. Go easy and nourish your body.
How are you planning to spend Mother's Day this year? What would a perfect day look like?
The perfect day would be similar to how we spend every Sunday. A coffee, a walk on the beach with my husband and kids, all my favorite foods and an evening spent watching a documentary.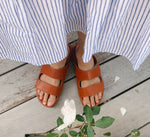 Do you have any daily rituals that help keep you grounded?
I like using a body scrub (C and the moon or OSEA) and then using our Bāeo bare butter. I usually shower in the morning using those products during and after and then put an oil on my face from Kyushi or OSEA and a tinted moisturizer sunscreen from Beautycounter. Some days I start the morning in the Infared Sauna and that feels amazing too followed by a much colder shower.
This routine makes me feel refreshed.
What's your favorite go-to weekday recipe?
I love making a salad from our Flamingo estate farm box or a Mediterranean style pasta with grilled shrimp, veggies, herbs and feta.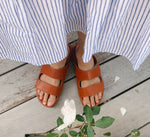 What is your favorite part about getting dressed for warmer weather? What is your favorite spring tradition?
I love feeling the warm sun on my skin. My favorite spring tradition is shopping for cara cara oranges at the farm down the street from our house on the weekends. It's our favorite orange and they are always around in the spring and summer.
What inspires you?
My husband, his curiosity and drive, Good food, good company, travel, my children, fascinating stories, women, women in business, birth, babies, my friends.
Do you have any book recommendations for our community?
The Wreckage of My Presence, UNTAMED, Where The Crawdads Sing, Calypso, Educated, Normal People, Vanishing Half,
Devil in the White City, Under the Banner of Heaven.
What is a favorite quote of yours? Or a special saying that you go back to time and time again?
Happiness is the Journey.
Any upcoming travel plans or bucket list destinations you can't wait to visit?
We have a home in Idaho and I can't wait to go there to be with our family. My mom just got to meet our new baby for the first time. I had not seen my mom or brother since January 2020 and my husbands parents haven't met our baby either and will soon meet her in Idaho. It's always a very special time but this year I think it will be on a whole new level.