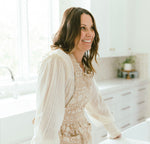 Can you tell us a bit about yourself and your journey to where you are today?
Interior design has been a part of my life since I was a little girl. Growing up, my parents lived in several different homes in the same neighborhood. They would fix them up, move and do it all over again. My Dad owned a paint store, and I loved watching him mix paint. The seeds for transforming spaces were planted in me early on. After college, I decided to work for a design house and later I worked for an interior designer in Southern California where I live now. But it's when I started designing my own spaces that I knew this was what I wanted to do long term. I love the creative process and having the chance to work with amazing clients.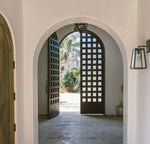 Where do you draw inspiration from for both your projects and your personal style?
I draw a lot of inspiration from where I live. I live in a small coastal town in Southern California. I love the laid back, boho style of our surf town. It influences not only my work, but what I wear. I like to think of my work as modern yet inviting and livable. That's a reflection of the California lifestyle that I'm a part of.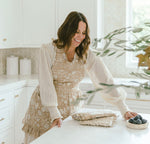 What do you think will be the biggest home trend this year and what would you like to see gone?
I think we will be seeing more of stone, but not just on the outside of homes. It will be incorporated into interior design as well. I love the idea of wood and stone kitchens. This pairing can add a beautiful organic feel to the space, giving it interest and dimension. The colors can still be subtle and tone on tone but the stone adds beautiful texture.I'm not a big fan of terrazzo. I won't be sad to see that go.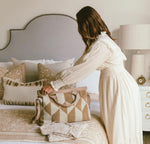 How do you create intentional spaces within your own home?
I think spaces should be functional, yet inviting and livable. It's always important to consider what a space is used for. In a living room, I like to start with a beautiful rug and layer furniture that has both beautiful clean lines and is comfortable. Lighting is key too, it helps to create the mood in a space and brings it to life.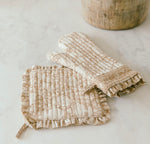 If you could give one design tip to our community, what would it be?
Save a big portion of your budget for the kitchen. It truly is the center of a home. Especially in today's more open floor plans, it's the place of gathering. Make it special with statement lighting, a gorgeous backsplash and styled with unique pieces that give it warmth.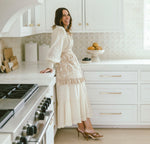 Do you have any special places that really inspire you in your design work? A favorite destination that you keep going back to?
The saying, there's no place like home rings so true for me. I love where I live. I have so many good memories there with my friends and family. I've lived in the same town for almost 20 years and it never gets old. It still inspires me and it's where I want to spend my free time.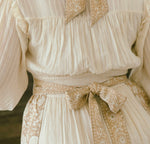 What inspired you while creating this collection?
I've always been in love with Cleobella. My closet is literally filled with pretty dresses and beautiful blouses from their collections. I wanted to stay true their unique bohemian designs and incorporate the warm neutral tones that are trending in home design right now. I feel the collection is the perfect pairing of fashion and home design, two of my passions.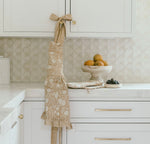 What is your favorite piece from the collection?
It's really hard to decide, but I love the charm of the apron and oven mitts. I can't wait to use them while cooking with my family this Thanksgiving.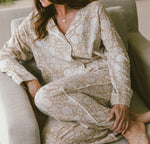 Which piece will you be gifting to friends and family this Holiday season?
The pajamas are so soft. I want to live in them. They make a wonderful gift for mothers, daughters and friends this holiday season. Put them in the weekender bag from our collection for the perfect gift set.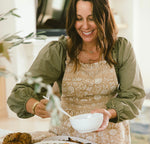 What is/are your favorite holiday traditions?
I love to gather with my family. We play games and we love to enjoy good food. We make recipes that have been in our family for generations. Especially Grandma Georgia's gingersnaps. When I cook them a warm, cinnamon smell fills our home. My children love it.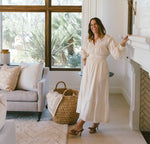 What are a few of your favorite IG accounts you follow?
I love the community that has come from Instagram, I love seeing all the beautiful inspirations from people who love design as much as I do. I also love a good laugh. My kids will find me cracking up at silly stories when I'm unwinding from my day.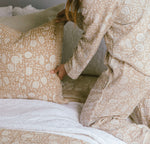 Do you have any book recommendations for our community?
I'm not a big reader. I'd rather get cozy and watch a great show with my husband to unwind.