Can you tell us a bit about yourself and your journey to where you are today? What led you to creating Minnow Swim?
My background is in premium product marketing, I worked in NY after college and also in Los Angeles - primarily in the fashion world. I knew I eventually wanted to do my own thing, so when I entered motherhood and had this new little muse, a fresh source of inspiration - the idea came! The desire to have a flexible work scenario so that I could be home with my son more also played into me taking the leap to start minnow.
What's one piece of advice you would give to your younger self?
Everything is going to be alright.
Keep the curiosity up, keep trying (lots of things!) and keep on doing, it all comes together. your experiences + mistakes play into your story.
We love how you picked up your life and moved across the country to Charleston. What has been your favorite part of the south so far? What do you miss most about the West Coast?
There is so much to love about Charleston, overall we do so much less driving and our life feels a bit simpler here in the south, a much slower pace. Although we of course miss family on the west coast!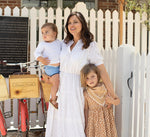 Do you have any daily rituals that you could share?
I walk my daughter to school with my baby in the stroller. Our neighborhood (straight out of the notebook) has these amazing live oaks with the dreamy spanish moss, I pinch myself on our daily walks.
What was a highlight moment or milestone of your business? Do you have a favorite collection?
Growing our amazing team is a major highlight. Not too long ago it was just me, and I feel incredibly grateful to now work with so many inspiring women that are experts in their fields, that I get to learn from. It's hard to pick a favorite for me, each new collection becomes the current favorite. Our spring 21 collection was shot at the Gasparilla Inn in Boca Grande Florida. Wwe used prints from Southern Artist, Lulie Wallace, the collection just felt so happy bringing in warmer + brighter colors than we have ever done before - felt like we all needed it in 2021!
We're all itching to get back to traveling these days, do you have any special places that really inspire you? A favorite destination that you keep going back to?
Our family loves the 30A area of Florida, Rosemary Beach + Seaside. That is a spot we like to head to on repeat; crystal clear water, so family friendly, and live on bikes. We also just recently explored Cashiers, NC (you have to stay at the newly renovated High Hampton Resort - owned now by Blackberry Farm) gorgeous hideaway retreat experience tucked away in the mountains of North Carolina. As a west coaster, it feels like a hidden gem, as these spots were previously so hard to access.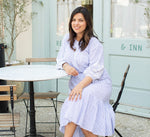 What is your favorite part about getting dressed for warmer weather? What is your favorite spring tradition?
Long live summer dresses, in the south I dont put on denim til November!
What is/are your favorite thing(s) to do on a free weekend?
Ride bikes to the beach with my family.

What is a favorite quote of yours? Or a special saying that you go back to time and time again?
"Small minds discuss people, average minds discuss events, great minds discuss ideas."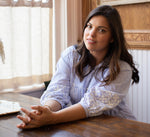 What keeps you inspired?
My children (always growing) and travel.